Frisky Business Massage and Body oil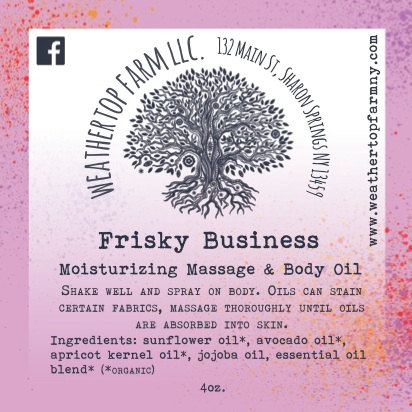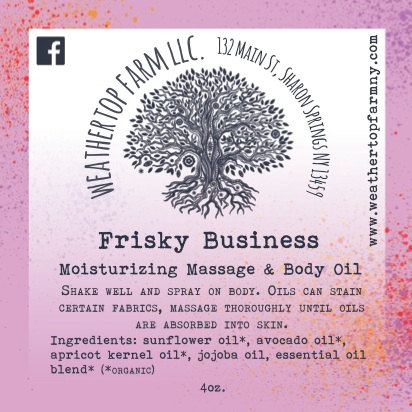 Frisky Business Massage and Body oil
This light body oil is made from a blend of the following:

organic sunflower oil: wealthy in oleic acids with high amounts of vitamins A, D, and E, it also has beneficial amounts of lecithin, and unsaturated fatty acids. It is deeply nourishing and conditioning for the skin, and is highly recommended for treating dry, weathered, aged, and damaged skin.

organic fair trade avocado oil: ultra-rich, containing high amounts of Vitamin A, B1, B2, D, and E. It also contains amino acids, sterols, pantothenic acid, lecithin, and other essential fatty acids. Highly prized to those with skin problems such as eczema, psoriasis, and other skin ailments. Highly recommended to those with sensitive skin, problem skin and other irritations that require vitamin rich oil.

Organic apricot kernal oil: cold pressed and unrefined, extremely well suited for sensitive and prematurely aged skin

jojoba oil: wonderful for the skin because it has absorption properties that are similar to our skins own sebum.

organic essential oil blend: contains Ylang Ylang, Geranium, Ho Wood, Vetiver, Lavender, Sweet Orange. Natural, not chemical, all organic.

Comes in a 4 oz flip top bottle. Great as either a body oil after the bath or shower, or used as a massage oil.

These statements have not been evaluated by the FDA. These products are not intended to diagnose, treat, cure or prevent disease. Please see your medical practitioner of you are unwell, pregnant, or in need of medical advice.